Top 10 Best International BCAA's Available in Indian Market 2020
1. 5% Nutrition All Day You May 10:1:1 BCAA
If you're serious about gains, you need to start and continue your day in an anabolic environment. Start with ALL DAY YOU MAY. ADYM provides exactly what you need for maximum recovery and growth beginning with the critically important BCAAs as well as additional EAAs. We've included an exclusive Conditionally Essential Amino Acid Blend, a special Amino Acid Support Blend, a powerful Intra-Cellular Buffer Blend, and a Joint Support Blend. Now that's what a complete formula is all about!
BCAA Blend – Leucine, Isoleucine, Valine – 6 Grams
Essential Amino Acid Blend – L-Phenylalanine, L-Threonine, L-Histidine, L-Methionine – 155 mg
Conditionally Essential Amino Acid Blend – L-Glutamine, L-Carnitine L-Tartrate, N-Acetyl l-Cysteine (NAC) – 2,800 mg
Amino Acid Support Blend – L-Taurine, Raw Coconut Water Concentrate, HICA, Bromelain, Blueberry Fruit Powder – 960 mg
Intra-Cellular Buffer Blend – CopMax™ Creatinol-O-Phosphate, Beta-Alanine – 1500 mg
Joint Support Blend – D-Glucosamine Sulfate Potassium, MSM – 600 mg
2. 1UP Nutrition BCAA/EAA, Glutamine & Joint Support
Promotes muscle recovery and growth, protein synthesis, joint and cartilage recovery, and hydration – all packed into 1 properly -dosed open formula!
4 in 1 PRODUCT
BCAA/EAA – Promotes Protein Synthesis
L-Glutamine – Promotes Muscle Recovery and Growth
Hyaluronic Acid & Collagen Type II – Promotes Joint and Cartilage Recovery
Features SUSTAMINE® – Promotes Hydration
3. NeedSupps NEED BCAAS & GLUTAMINE 12:1:1
BCAAS & GLUTAMINE by NEED®.
One of our basics that you cannot miss out.
The definition of branched-chain amino acids or BCAA corresponds to a trio of amino acids formed by leucine, valine and isoleucine, which make up almost a third of the total skeletal muscle.
Glutamine is the perfect amino acid to improve the recovery of athletes who are subjected to a high energy demand.BCAAS & GLUTAMINE by NEED® contains the perfect combination of BCAAS ratio 12:1:1 and KYOWA™ glutamine acting synergistically to prevent catabolism and muscle breakdown as well as enhance growth and recovery.
In addition, BCAAS & GLUTAMINE by NEED® is designed for sublingual intake, obtaining a greater assimilation of the product by the lymphatic system and accelerating its availability.
For our R + D + I team to make a great product was not enough. It needed to be extremely tasty and that is why they created these incredible 5 flavors.
4. Kevin Levrone BCAA Defender
The product which delivers branched-chain amino acids (BCAA) in 8:1:1 ratio. Formula enriched with minerals (magnesium, potassium, sodium) and vitamins (C, B6, B12).
5. FA Core BCAA
BCAA 8: 1: 1 from the FA is a new refreshed version of the well-known and proven branched chain amino acids (BCAA) brand's fitness Authority. The supplement provides a branched chain amino acids (L-leucine, L-isoleucine and L-valine) in a ratio of 8: 1: 1.
excellent bioavailability
Universal supplement for all kinds of sports
6. Killer Labz BRUTE BCAA
BRUTE BCAA HIGHLIGHTS
Stimulates mTOR
Boosts muscle protein synthesis
Halts muscle protein breakdown
Enhances nitrogen retention
Boosts nitric oxide production
Decreases muscle soreness
Accelerates recovery
Supports lean mass gains
7. ANS Performance QUENCH BCAA™
Ultra Fast Recovery for Supreme Workouts
Boost muscle recovery and get back into the gym quicker!
Fuel your body with an optimal ratio of 2:1:1 BCAAs for maximum muscle response.
Elevate endurance and eliminate muscle soreness and fatigue.
Stay naturally hydrated with no artificial dyes or colors, just the highest quality ingredients!
Go Full Throttle & Maximize your workouts!
Whether you're just getting started or you're already a pro-level athlete,QUENCH can help you.
QUENCH BCAAs will help you get the most out of every workout, and back in the gym sooner!
This lifesaver keeps you fully hydrated, drastically improves your muscle recovery, reduces fatigue and boosts your endurance so you can be always ready for what's next!
8. XTEND The Original 7G BCAA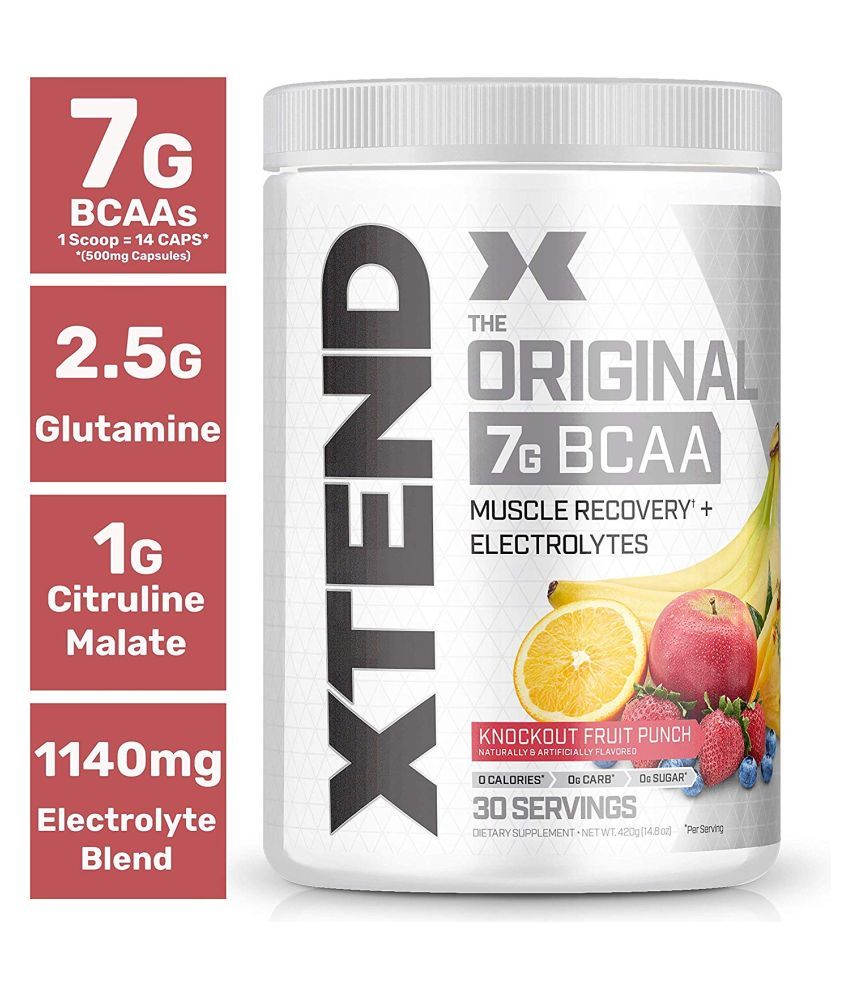 7G OF BCAAS – Contains 7g of BCAAs in the nature-designed and research-proven 2:1:1 ratio
0 CARBS, 0 CALS, 0 SUGAR
3.5g of Leucine for Muscle Protein Synthesis
2.5g of L-Glutamine & 1g of Citrulline Malate
Stay Hydrated Pre-, During, and Post Workout with Electrolytes in XTEND
9. Muscle Pharm BCAA
MusclePharm® BCAA offers a unique patent-pending ratio—3 Leucine, 1 Isoleucine, 2 Valine—that is specifically tuned to deliver the ideal amounts of these three amino acids during all phases of muscle development and maintenance. Through this formulation, amino acids are released both before and after a workout. MP® BCAA minimizes muscle damage, while supporting increased lean body mass.
Product Benefits:
Supports Lean Mass Growth
Reduces Muscle Breakdown
Increases Protein Synthesis
10. Elite Labs USA True Recovery
True Recovery™ is an Elite BCAA Performance & Recovery drink that packs over 11 grams of total amino acids, including 7.8 grams of BCAAs in a research proven 2:1:1 ratio.
With added L-Glutamine and hydrating electrolytes, True Recovery™ can help you perform better in your workouts, feel less tired when you're finished, and experience the True Recovery of your life. *